We are an Amazon affiliate
Information, suggestion, recommendations made about the product here are based on our user review and practical experience. We hope you like the products we recommend or suggest. We may also apprise you we earn a small amount of commission for every purchase you make by using the links on this page. We really appreciate if you use our links to make purchases, thank you!
The Canon EOS 750D DSLR Camera comes with 24.2 Megapixel APS-C CMOS sensor. 
It also offers the ISO range of 100-12,800 which expandable to 25,600. Along with DIGIC 6 image processor, the camera offers 19 points cross type autofocus system. With faster shutter speed and compatibility in terms of interchangeable lens and accessories, this is very well placed camera in DSLR market segment.
KEY HIGHLIGHTS
APS -C CMOS Sensor with 24.2MP
Dual Pixel Autofocus System
19 Cross type Autofocus points
DIGIC 6 image processor
100-6400 ISO sensitivity
Full HD video at 30fps
Built-in Wi-Fi, NFC, Bluetooth
With EOS 750D DSLR Camera, you can compose your exposure with optical viewfinder and fully articulating 3-inch touch sensitive LCD display. That is a very good feature and you will appreciate it. The capability of the camera to continuously shoot at 5 fps, video recording at 1080/30p with full manual control and built-in Wi-Fi and NFC will not disappoint you in anyway.
By comparison the DIGIC 6 image processing engine with the EOS 750D is an improved version. Its predecessor 700D has DIGIC 5 processor. Going by its physical look, the camera more or less looks like its predecessor. But it has new exposure metering system. While looking at more details at the physics of the camera, we did not find much difference in control lay out between 750D and its predecessor 700D.
We also have selected best 3 cheapest DSLR Cameras. You may like to read more about best 3 cheapest DSLR  Camera in India.
Key Features and Specifications of Canon EOS 750D : DSLR Camera
| | |
| --- | --- |
| Effective Pixels | 24.2MP effective pixels counts |
| Sensor | APS -C CMOS Sensor with hybrid CMOS AF III |
| Display | 3-inch full HD display with touch sensitive functionality |
| Battery | Lithium ion battery |
| Video | Full HD video recording at 1920×1080 |
| Connectivity | Built-in Wi-Fi, NFC, Bluetooth connectivity |
| Dimension | 100.7 x 131.9 x 77.8 mm |
| Weight | 555 gm |
| ISO range | 100-6400 expandable to 25,600 |
| Sensor size | 22.3 x 14.9 mm |
| Lens mount | Canon EF/EF-S lenses |
| Shutter speed | 1/4000 sec |
| Image format | JPEG, RAW |
| Processor | DIGIC 6 image processing engine |
| Viewfinder | Optical viewfinder with 95% field of coverage |
| LCD display resolution | 1040K dot resolution |
Design and Build of Canon EOS 750D : DSLR Camera
The Canon EOS 750D DSLR Camea is built up of plastic body, but great design. There are clamping on both sides of the camera that give a fantastic grip. Absence of weather seal may make you feel little disappointed. But that is not a big issue as long as you take care good care of the device against dust and wet environment.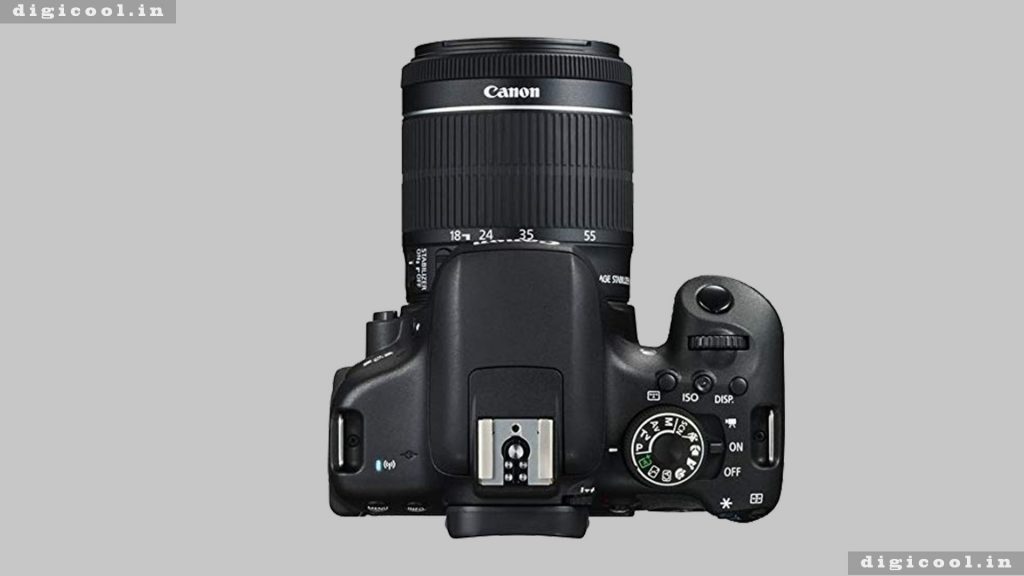 Moreover, you are comfortable with little higher end camera i.e. full-fledged enthusiast DSLR such as EOS 70D or 7D Mark II, absence of weather protection seal will be vanished. Since it is supposedly budget camera and falls in comparatively lower rung, the EOS 750D DSLR Camera consists of polycarbonate body. Its little more expensive counterparts have magnesium alloy body.
Unlike 760D the Canon 750D doe not have secondary display settings at the top. This may be seen, to some extent as limitation. We just loved the camera thanks to its lightweight and easy to use features. All the buttons and controls are beautifully placed and easily accessible. Even if you are a beginner, you would not find it very hard to play around with the buttons and controls arranged in the camera.
Canon has always brought simple and attractive interface that you will love to see irrespective of whether you are novice or professionals. Though you will not have secondary LED display control, you will also not have much to complain about, because the camera doesn't fall in those category that offer a few additional features at higher cost.
The Canon EOS 750D DSLR Camera comes with standard EF lens mount. During our shooting, we felt this piece of DSLR may not hold big lens such as EF 300mm or 100-400mm telephoto zoom mount. In our view, we don't see any drawbacks in this because this is common feature with almost all DSLRs. As long as you use to its full potential, we would say it is a complete package within budget.
As far as display panel is concerned, we did not find any difference between EOS 750D and its sibling EOS 700D. They both have similar aspect ratio and touch sensitive functionality. Even when you are not at good angle you can shoot without much of a hard work. The display of the unit also has an ample number of controls that lets you adjust brightness, visibility under direct sunlight etc.
What really more impressive is its touch response system. We did bit of a testing with focus tracking, one-touch photo shoot etc. We found it quite amazing. It is a great proposition for beginners.
There are four different mode dials in the camera which you can for shooting like sports, lose up, landscape and portrait. With Creative Auto shooting mode offered by the EOS 750D, you can have background blur option, color tone settings, drive mode, flash control etc. This really impressive feature.
Performance of Canon EOS 750D : DSLR Camera
The major improvement with the Canon EOS 750D has been its 19 points phase detection autofocus system as compared to its sibling EOS 700D which has 9 point autofocus system. Although it is not great as we talk about the contrast detection autofocus mechanism, surely the DIGIC 6 image processing engine coupling phase detection system makes it fast, accurate and consistent in the Canon's DSLR league.
While shooting in Live View mode, we did not find any issue either. Off course, we are impressed by its fast and accurate focus tracking capability. We also did successfully do video recording without much of disturbance being created by the image stabilizer of the lens.
You can have shooting at burst mode at 5fps. This is undoubtedly a noticeable feature offered by the Canon EOS 750D DSLR Camera. While we could secure burst photography up to eight RAW files, this limit did go to an overwhelming 940 JPEG files when shooting in burst mode.
The built-in Wi-Fi, NFC connectivity is another great feature considering it is relatively budget camera. With the EOS 750D, you can establish a connection with compatible external devices and your smartphone. This lets you transfer your images from the camera to your devices or smartphone, remotely control the shutter and adjust other settings as well.
Coming to shooting images and videos, the EOS 780D did produce good results as it comes with 24.2 Megapixel with DIGIC 6 image processor. By comparison this has a great advantage over its predecessor EOS 700D. However, what we did feel a little annoying is its anti-aliasing filter which put it slightly on a lower side.
In manual operation, you will need to put little more efforts to get right tone, though we noticed there is a good amount of image noise reduction by anti-aliasing filter.
The ISO range is an indication of camera's sensitivity to the light.  The CANON EOS 750D comes with the native sensitivity range of 100-12,800 which can go up to 25,600. Taking shots in different light conditions, it did a good job.
At the same time we also need to mention that as you bump up ISO level, the images become more noisy. Increasing the ISO level to its top level of 25,600, images becomes noisy, you might want to avoid it. Shutter speed with 30 to 1/4000 second is good. You will not be disappointed by it.
When we talk about the dynamic range, it is an indication of the amount of light that is captured in given scene. If you are taking shots with a lot of bright parts with full light along with a lot of dark parts covered in shadow, this scene could be seen as having excellent dynamic range.
The EOS 750D offers a very good dynamic range of 11 stops. Even when there is low dynamic range, it is visible your shot when background is illuminated. As the camera has a multi exposure HDR mode, you will really appreciate to see improved range of contrast.
One important takeaway with this camera is that while it needs to stand to shoot in the multi exposure HDR mode and quality of shots may as good as we want to be, that is not a major issue. It neither will take away overall quality of the camera.
As we did a few video shootings with the EOS 750D DSLR, it did impress us. It has been designed keeping in mind its targeted audience like independent, novice or semi-professional film makers have extensively used Canon's video shooting features.
To make it more attractive for the users, it has been put on the shelf with full HD, 1080 at 30 fps video recording system. It is indeed a good feature and you will not get disappointed. You will also get 3.5mm audio jack as well as options to control volume while shooting video.
Indeed, the Canon EOS 750D have undoubtedly made significant improvements as compared to its outgoing siblings. Its predecessor 700D has very good design, control layout and touchscreen feature which is a very good thing. So has the EOS 750D.
The power packed 24.2MP APS-C CMOS sensor with 19 cross type Autofocus Points give it an edge over its predecessor when it comes to image quality. Even shooting at the ISO value of 12,800, we could produce clean images with insufficient noise. That is a great performance shown by the camera.
Details in the images and color reproduction are pretty impressive. It did a good job with new exposure metering system while giving consistent results.
The Canon EOS 750D may not score fully and you may not get excited about is its viewfinder which has 95% coverage. Another seemingly drawback that may annoy you is battery life, which lasts for approx. 450 shots per single charge. But both these can put aside given the overall performance of the camera.
Overall, although many may argue it is an entry level DSLR, the Canon EOS 750D DSLR Camera has good features and easy to use while delivering outstanding performance and image quality many enthusiast photographer has been looking for.
Pros
Good image quality
Built-in Wi-Fi, NFC connectivity
Articulate touch sensitivity
Good shutter speed
Cons
Average battery life
Lacks full viewfinder
No weather protecting seal