We are an Amazon affiliate
We hope you like the products we suggest recommend! As you know, we may collect a share of sales or other compensation from the links on this page. Thank you if you use our links, we really appreciate it!
In our series of health and fitness tracker gadgets, we have added yet another instrument. Realme Health and Fitness Tracker Band has it all to keep you on top of your health and fitness status 24×7.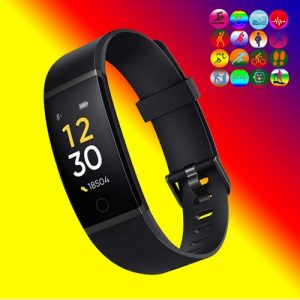 Highlights
Fullscreen color display – 2.4cms
Multiple sports tracking mode
Easy and simple to operate
Multifunctional touch key
Five unique built-in dial faces
10 days powerful battery backup
Optical heart rate monitor
Instant notification of calls and SMS
Description
While we all have very hectic schedule throughout the day, we also want to get on top of our health and fitness status. For keeping ourselves up to date about our health fitness, we indeed need a health and fitness tracker devices. Thanks to Realme Health and Fitness Tracker Band that helps us monitoring our health and fitness all along the day.
The Realme Fitness Tracker band features large full colour screen display that lets you read the message easily. There is a large range of color range on the display. That is beautiful. The device is beautifully designed and its touch button on the dial makes it simple and easy to operate.
The Realme Band coupled with 9 sports mode is a perfect companion for you to track your preferred sport activity. You can track your walking, running, yoga, other sports and so on while wearing the band on your wrist with style.
You will rest assure and remain worry free about the band being no-functional or damaged when you are bathing or swimming in the pool. Thanks to IP68 water resistant technology used in its design. Application of this technology helps protect the band from damage done by water leakage into the engine.
Fond of showcasing your style? Realme band has built-in unique dial faces. The Realme Link App has great feature that lets you display distinctive dial faces that suit your mood swing. You can change your dial face that makes you feel happy and express your unique style.
We all are always very conscious about our health and fitness status, especially heart functioning. This is even more important when many of us either genuinely don't have time to monitor our activity or we simply ignore it. The Realme Health and Fitness has built-in PPG optical heart rate sensor.
The built-in  PPG optical heart rate sensor  of the activity tracker band lets you measures the real-time heart rate in the interval of every 5 minutes. Now you can keep a close watch on your health even if you don't have much time to spare.
Majority of health related issues today are attributed to lifestyle. Related to this are long working hours without taking break. This includes sitting in the same posture for a long, lack intake of food and water in right time and so on. The Realme band intelligently analyses your activities and reminds you to take corrective action.
When you are sitting in a single for long hours, intelligent algorithm of the gadget reminds you to take a break and move or take walk. Intelligence of the device does not end here. It also analyses your sleep quality and generates report about your sleeping pattern to keep you healthy.
Another amazing feature of the device is that if you, anyhow missed to have water for sometimes it will remind you to drink water. This will protect you from getting dehydrated because of shortage of water in your body.  
You will feel let down by the battery backup of the Realme Health Tracker band. It has powerful battery life of 10 days with a single charge. Standby can go even go beyond this limit if the frequency of heart rate monitoring is minimum or occasionally put off.
Wear the Realme Health and Fitness Tracker Band on your wrist. You will never miss those important calls, SMS, WhatsApp message, Mail, Instagram notifications.
Conclusion
The Realme Health and Fitness Tracker Band has all the features that high end and more expensive band might have. It features full colour screen with touch key for easy functioning. The band has the real time heart rate monitor, built-in USB Charging. The IP68 water resistant feature does not let your band's engine get wet even in deep water.
The band full of intelligent features , like reminders for taking walk if you are sitting idle for long time. It also reminds you to take water on regular interval, analyses your sleeping pattern and so on.
Overall, you and the Realme band make the perfect companionship without pinching you shoe heavily. If you are looking to buy a quality fitness band within your budget, you may consider it.
So, guys! Have you have got one for yourself or for your friends? Let's know your take on it.
You may also love to read our full review and buying guides on-
SClout M4 Bluetooth Waterproof Smart Band in India
Sketchfab Fitness Band for Boys & Girls India 2020